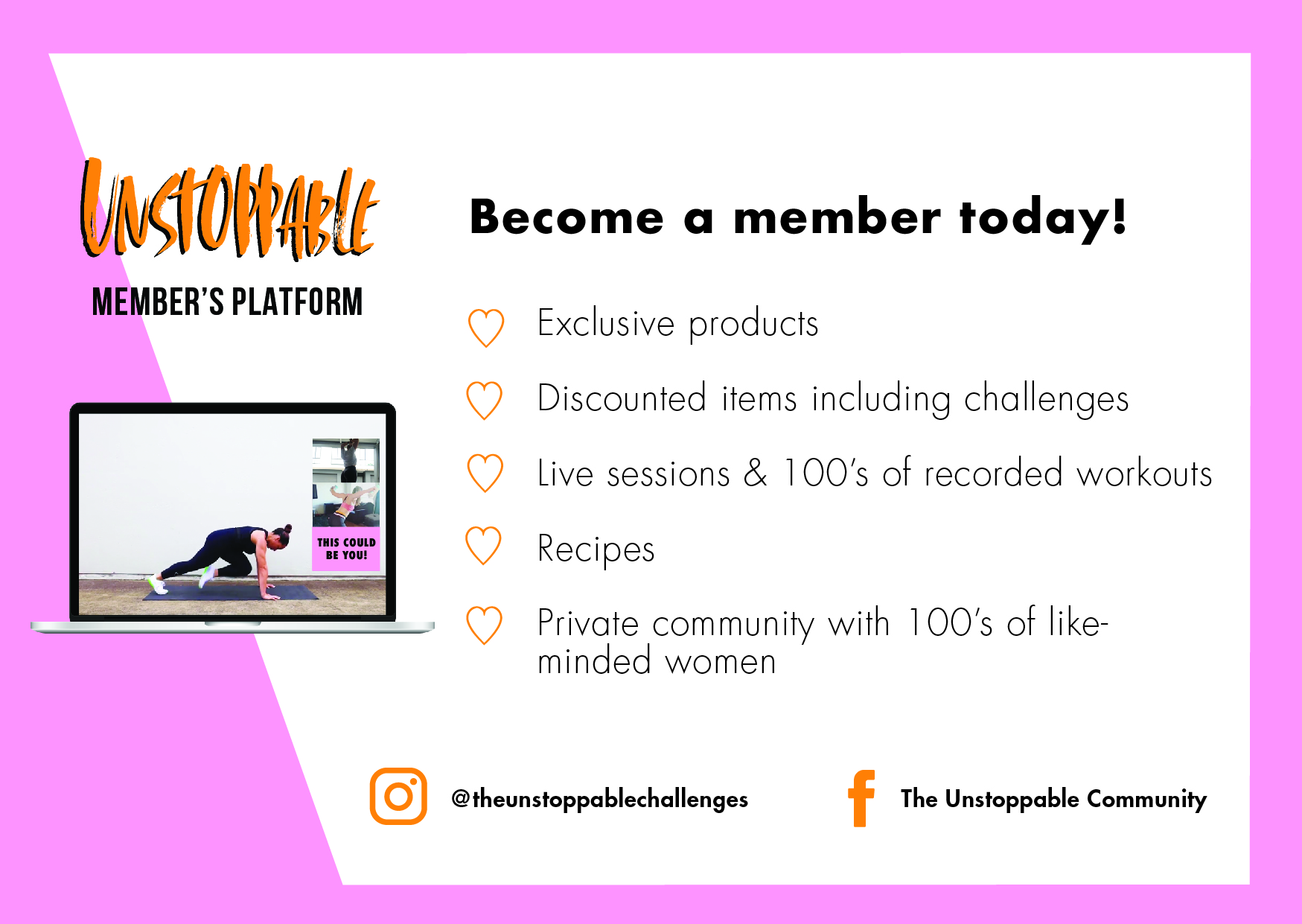 ONLINE BOOTCAMPS ARE RECORDED
ANY LIVE SESSIONS ARE VIA ZOOM
RECORDED SESSIONS
CAN'T MAKE THE LIVE SESSIONS?
THAT'S OK, BEING A MEMBER GIVES YOU ACCESS TO HUNDREDS OF RECORDED WORKOUTS READY FOR YOU TO PRESS PLAY, ANYWHERE, ANYTIME.
WHAT'S STOPPING YOU?
WE HAVE SESSIONS LIKE: HIIT, WEIGHTS, YOGA, TECHNIQUE WORK SHOPS & MORE!
RECIPES
WE HAVE A RANGE OF HEALTHY RECIPES ON OUR SITE, FROM SWEET TO SAVOURY, SMOOTHIES & MEALS AND EVERYTHING IN BETWEEN!
LT'S PERSONAL FAV THE CLEAN FRIED CHICKEN & RHI'S FAVOURITE MORNING SMOOTHIE
DISCOUNTS FOR OUR MEMBERS ACROSS OUR WHOLE WEBSITE, PLUS DISCOUNTS WITH OTHER BUSINESS - JOIN NOW AND GAIN ACCESS!
EXCLUSIVE PRODUCTS
DID YOU KNOW, BEING A MEMBER MEANS YOU GET FIRST ACCESS TO CERTAIN DESIGNS AND EXCLUSIVE MEMBERS ONLY PRODUCTS! NEVER MISS OUT ON YOUR SIZE AGAIN!
FACEBOOK COMMUNITY
READY TO BE THE MOST UNSTOPPABLE VERSION OF YOURSELF! JOIN 100'S OF OTHER LIKE MINDED WOMEN OUT TO ACHIEVE THE LIFESTYLE OF THEIR DREAMS.
---
---
MEMBERS ONLY SIGN UP
JOIN THE COMMUNITY TODAY!
#STAYUNSTOPPABLE
✕